Clean Power Plan
Under Section 111(d) of the Clean Air Act
---
On August 3, 2015, the U.S. EPA released the final Clean Power Plan (CPP) final rule to regulate carbon dioxide (CO2) emissions from existing fossil fuel-fired electric generators. EPA promulgated the final rule after considering millions of stakeholder comments. NMED Air Quality Bureau staff are currently reviewing the rule and accompanying technical support documents in order to conduct appropriate stakeholder outreach in the coming months. To find documents related to the Clean Power Plan, visit EPA's web site.
In addition, EPA released an accompanying proposal for a Federal Plan and Model Rules. The Federal Plan would be imposed on any state (or tribe) that fails to submit an approvable plan to EPA. The Model Rules may be used by states as a template. NMED submitted comments to EPA on January 21, 2016.
Proposed Federal Plan & Model Rules – NMED Comments to EPA 2016
EPA had proposed the Clean Power Plan rule under Section 111(d) of the Clean Air Act on June 2, 2014. The proposed rule was open for comment until December 1, 2014.
Proposed Clean Power Plan – NMED Comments to EPA 2014
---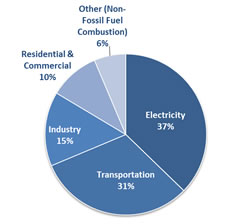 U.S. carbon dioxide emissions by sector; Source: EPA
How will NMED address the CPP's requirements?
NMED intends to submit a plan for compliance with the Clean Power Plan, preferring to address the rule's requirements in a way that benefits New Mexico's citizens while minimizing costs.
Go to CPP Requirements page.
NMED believes a New Mexico-specific plan can meet the requirements of the federal rule while offering flexibility in compliance to the state's electric generators. Ultimately, citizens of New Mexico will benefit as a New Mexico-focused plan will minimize costs passed on to ratepayers.
NMED staff have reviewed the final rule and technical support documents released by EPA. Staff have also participated in various webinars, trainings and workshops related to the final rule. In addition, we have met with stakeholders, including all of the major utilities, the Rural Electric Cooperative Association, environmental organizations and other New Mexico citizens. Our CPP Team includes staff from the New Mexico Energy, Minerals and Natural Resources Department (EMNRD), the City of Albuquerque Department of Environmental Health and the New Mexico Public Regulation Commission (PRC). We continue to educate ourselves about the electric power industry, utility regulation, and research related to reducing our carbon and energy footprints.
EMNRD has more information on renewable energy, alternative and clean energy, and energy efficiency, which are possible options to support compliance with the CPP.
---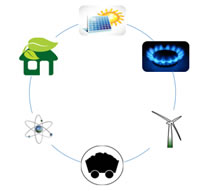 NMED is committed to appropriately involving the public by soliciting input from citizens, environmental organizations and other stakeholders, and by disseminating timely, relevant information regarding the requirements of the final rule and possible compliance pathways. The Clean Power Plan team engaged in a series of public involvement meetings; should the current stay of the rule be lifted, we will continue planning a citizen participation campaign which should give all interested stakeholders ample opportunity for communicating relevant information and ideas.
Go to Public Outreach page.
For questions or comments regarding the Clean Power Plan and New Mexico's compliance planning efforts, email NMENV-NMCPP@state.nm.us or call (505) 476-4300. For periodic updates, including announcements of public meetings, please sign up for Clean Power Plan email announcements through our ListServ.

Stay tuned to this web page for further updates.