Air Dispersion Modeling Basics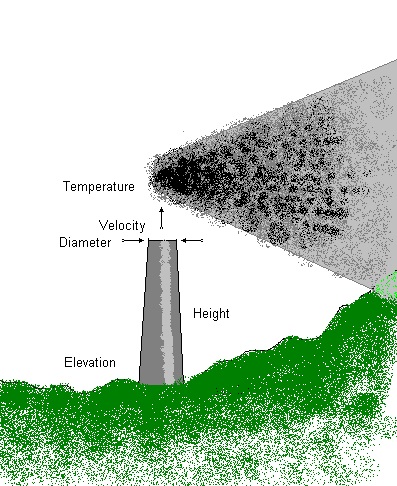 Modeling stack parameters
What is Dispersion Modeling?
Air dispersion modeling is a way to show the transport of air pollutants. This is performed mathematically using a computer program. By using information such as meteorology and source emissions, models can calculate pollutant concentrations in the air such as:
Sulfur Dioxide (SO2)

Carbon Monoxide (CO)

Nitrogen Dioxide (NO2)

PM10 (particulate matter smaller than 10 microns in diameter, or about 1/7 the thickness of a human hair)
Why is Air Dispersion Modeling Used?
Air dispersion modeling is used for two major reasons:
Modeling can predict pollutant concentration estimates at most locations where there are no air monitors.

Models can predict the potential impact of new sources before they are built as well as how new pollution control devices will affect the impact of the pollutant.
Air Dispersion Modeling Activities in New Mexico
The modeling activities in New Mexico are used in:
Modeling new and modified sources for air quality permits

Determining if existing sources are complying with air quality standards

Determining pollution transport from other areas or states

Developing new regulations to ensure air quality in New Mexico does not degrade

Determining where air quality monitoring stations should be located
The Air Quality Bureau computes air pollution impacts from sources such as power plants, compressor station engines, asphalt plants and rock crushing operations.

Components of an Air Quality Modeling Analysis
Source Characterization
Emission rate (amount of pollutant emitted per hour)

Stack's height and diameter

Velocity and temperature of air exiting stack

Consider surrounding air pollution sources if required
Meteorology
Wind speed & direction

Temperature

Mixing height (shows the height of the inversion layer)

Atmospheric stability (prescribes how well plumes can rise in the atmosphere)
Receptors
Calculate pollutant concentrations at many points that include residential neighborhoods, schools, businesses, office buildings, and wilderness areas

Incorporate terrain elevations from USGS data
Building Downwash
Location of buildings

Height of buildings
Averaging Time
Compute averages to compare with EPA and State air quality standards
Please contact Eric Peters at the Air Quality Bureau by email or at (505) 476-4327 with any questions or comments concerning this page.