| | |
| --- | --- |
| KAFB Bulk Fuels Facility – Jet Fuel Plume Remediation | |
About the Project – Site History & Project Timeline

Site History

The Bulk Fuels Facility is located in the north-western portion of Kirtland Air Force Base (AFB) in Albuquerque, New Mexico. The Facility and associated infrastructure operated from 1953 until 1999. During this time, the fueling area was separated into a tank holding area where bulk shipments of fuel were received by rail cars and a fuel loading area where individual fuels trucks were filled. It is believed that gradual leaking from damaged underground fuel lines occurred undetected at some time between the mid-1950s and 1990's.  Kirtland AFB removed the facility from service in 1999 due to discovery of the underground leakage.

The exact history of the leaks or releases is unknown. Initially, it was thought that the leak only affected surface soil around the identified source area. Kirtland AFB learned through additional investigation activities conducted between 2004 and 2007 that the leaked fuel had reached the groundwater table.

Using available site operations data and site characterization data collected at the site, the project team created an animate conceptual site model to illustrate our current and best understanding of site conditions. The animation can be viewed on YouTube at the link below:

Kirtland AFB Bulk Fuels Facility Animated Conceptual Site Model (published April 18, 2016)

 
 

 Additional Information

Acronyms and Glossary of Terms
1951 – Kirtland Air Force Base (KAFB) Bulk Fuels Facility (BFF) constructed.
1975 – Handling of aviation gasoline containing EDB discontinued (groundwater contamination contains EDB).
1999 – KAFB notified NMED of soil contamination from underground piping and ceased use of piping.
2001 – KAFB notified NMED of groundwater contamination with dissolved fuel constituents.
2003 – Soil vapor extraction (SVE) technology began to remediate the contaminated soil in the vadose zone (i.e., unsaturated soil).
2007 – Fuel discovered floating on groundwater; attempted to skim fuelfrom water table with limited success.
2009 – Water level rise begins to submerge LNAPL within aquifer.
2010 – The NMED Hazardous Waste Bureau began regulatory oversight of the cleanup project under the KAFB RCRA Permit.

Site investigation and cleanup activities follow the Corrective Action Process of the Kirtland AFB Hazardous Waste Treatment Facility Operating Permit.

2010 to present –  site characterization and interim remediation measures.  Please see these pages for more information:

Site Characterization
Remediation Strategies
Project Accomplishments
< Project Activities page (for project activities from 2014 – present)
The broad-scale timeline below highlights the site investigation and interim measure activities planned through 2017.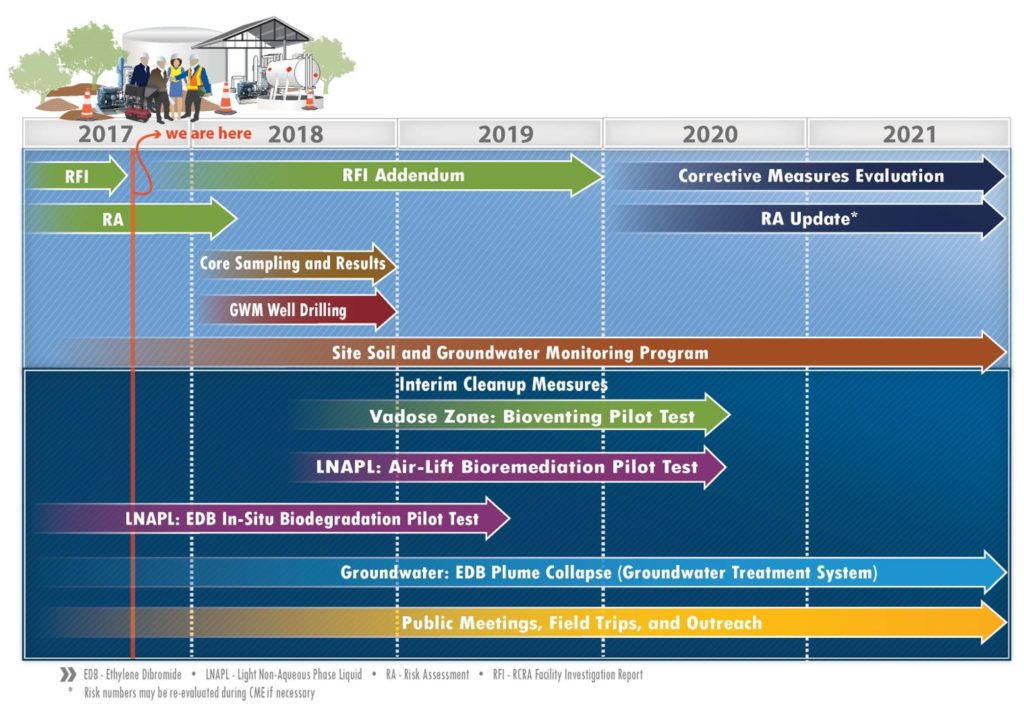 The Kirtland AFB RCRA permit provides for using interim measures in order to reduce or prevent migration of hazardous constituents that have, or may result in, an unacceptable human or environmental exposure while long-term corrective action remedies are being evaluated and implemented.
Interim measures for the Kirtland AFB BFF leak site are focused on two areas: source area and groundwater.
Site assessment and characterization activities are ongoing and, upon completion, RCRA Facilities Investigation (RFI) reports will be submitted to NMED. Data collected during the implementation of interim measures, including EDB plume collapse and source area treatment, will be incorporated into the RFI reports. A risk assessment will be part of the RFI. The RFI reports, after approval by NMED, will be used to support the Corrective Measures Evaluation (CME) and the selection of the final remedy or remedies.
2016 Project Schedule
There are numerous activities occurring simultaneously as this project moves forward to clean up the contamination and protect drinking water supplies.  As the site characterization continues, interim measures continue to be implemented.   Both are integral part to this corrective action process.

Site asessment and characterization activities provide project teams with critical, accurate, and informative data.
The better the information and data, the more efficient and effective the remediation strategies will be.

Due to the nature of cleanup activities, some of which are dependent on the outcomes of others, it is difficult to present a detailed timeline in a static format.   A general timeline schedule for expected 2017project activities is included in the 2017 Strategic Plan.

Behind each of the strategies and activities outlined in the Plan are specific workplans and other regulatory documents that provide activity detail and timeframes.