Sandra Ely Director Environmental Protection Division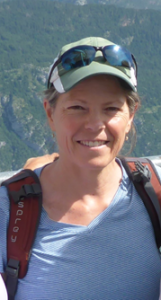 Sandra has a long history with the New Mexico Environment Department. She started in the Occupational Health and Safety Bureau (OHSB) in 1994 as an inspector and moved up to OHSB Program Manager before she became Air Quality Bureau Chief in 1999. In 2005, she began serving as Environment and Energy Policy Coordinator for the Department. In this role, she worked on state and regional climate change and clean energy initiatives. In 2012, she went back to the Air Quality as Compliance and Enforcement Section Chief before leaving the Department to manage the Aamodt Water Settlement in 2015 for Santa Fe County.
Sandra holds a B.S. in Conservation and Resource Sciences from the University of California at Berkeley, a B.S. in Nursing from Creighton University and an M.S. in Environmental Studies from the University of Oregon.
You will often see her out on the trails hiking, backpacking or running with her dog, Ali, and husband, Steve Michel.
As Environmental Protection Division Director, Sandra oversees the Department's Air Quality, Environment Health, Occupation Health and Safety and Radiation Control bureaus.