Open Burning and Smoke Management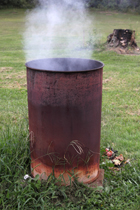 Open Burning Regulation
See 20.2.60 NMAC – Open Burning for full details and the official legal wording.
Permits for open burning are not required, although burners must know and follow the requirements for the particular type of burning they are doing.
Open burning of household waste (not including yard waste, weeds, etc.) is prohibited.
All burning of vegetative material has the same requirements, regardless of the purpose or who is doing the burning. This includes small-scale prescribed and agricultural burning as well as burning of yard waste by individual householders.
This rule applies to burning of vegetative material when 10 acres or less of non-piled material is burned per day, or when the amount of piled material burned per day is 1,000 cubic feet or less of pile volume. Larger burns are covered under the Smoke Management regulation.
---
Smoke Management Regulation
See 20.2.65 NMAC – Smoke Management for full details and the official legal wording. See also the NMED Smoke Management page for forms, maps, links and other information.
Some important requirements for burning of vegetative material under this rule are:
Minimum distance from neighbor of 300 feet;
Time-of-day window for burning is from one hour after sunrise to one hour before sunset;
Fire department or appropriate firefighting authority must be notified prior to burning; and
If burn is larger than 1 acre per day, or 100 cubic feet of piled material, burner must notify neighbors within 1/4 mile prior to burning.
Recreational and ceremonial burning, campfires, fireplaces, and other types of burning are unrestricted, with one exception: burning of explosive materials that cannot be safely removed are covered by a section on emergency burning.
Restrictions on burning issued by fire safety authorities to prevent wildfires will supersede any permission to burn in the Open Burning regulation.
Burning of structures for firefighter training requires prior notification to the Department to ensure that asbestos-containing material has been removed.
Open burning of hazardous waste is allowed only when authorized by RCRA rules or permits, which include analyses of environmental effects and provisions for due process and public notice. Explosives and propellants are the only types of hazardous waste that can be disposed of by open burning under RCRA regulations.
Emergency burning is allowed when there is an imminent danger and rapid response is needed. This is intended to cover true emergency-response situations such as tanker spills, etc.